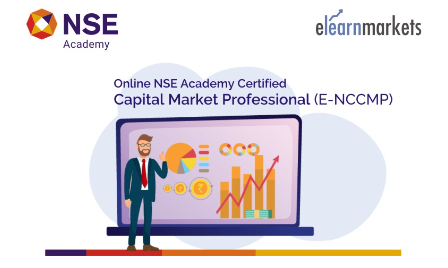 ONLINE NSE ACADEMY CERTIFIED CAPITAL MARKET PROFESSIONAL (E-NCCMP)

₹23,600.00
₹21,240.00

Flat 10% CE Cashback
GET DEAL
Details of the product
COURSE HIGHLIGHTS
200+ Videos
20+ Hours of Content
10+ Text-Based Content
Chapter wise Quiz & Tests
Interactive Learning Tools
Module Mock Test
INTRODUCTION
NSE Academy Certified Capital Market Professional (E-NCCMP) course is a stock market course that is jointly certified by NSE Academy & Elearnmarkets (NSE Academy is a subsidiary of the National Stock Exchange of India).
This stock market course for beginners is a perfectly designed capital market course, to create a powerful knowledge bank on various tools and techniques that requires an in-depth understanding of the functioning of capital markets. The stock market course simplifies financial jargon like Equities, Currency, Mutual Funds, Derivatives and IPOs. It is a perfect blend of Fundamental Analysis, which help investor pick the right stock and Technical Analysis which will provide the correct entry and exit timing and prices of the stock through the study of charts. This stock market course will empower Investors with knowledge about the markets so that they may be able to take the right decisions & not lose money by blindly investing based on investment advice provided by so-called market pundits. This Online NCCMP course provides that knowledge.
OBJECTIVE
The objective of the capital market course is to equip the students with the necessary stock market theoretical and practical know-how and provide the students with an academic base so that students can apply the same in equity markets research for wealth creation. This stock market course for beginners introduces you to the process of how to find and analyze stocks, the proper entry and exit time of the stock, determine the risk of a stock investment or trade, understand why markets move the way they do, and help you choose the right trading style as an expert trader for your personal goals. This fulfils the objective of providing all relevant tools and techniques to understand the various facets of the capital market covering practical exposure and also the knowledge of stock investing for beginners.
BENEFITS
Students enrolling for the NCCMP course will be entitled to free email query support, question & answer platform support and a certificate by NSE Academy & Elearnmarkets. There are mock tests designed after each session to check and ensure the level of understanding of the students. All the knowledge content is provided by Elearnmarkets & NSE Academy.
TOPICS COVERED
The topics covered in the NCCMP course are:
Basics of Stock Investing for Beginners
Understanding Capital Market and its Structure
Mutual Funds
Macro Economic Analysis
Fundamental Analysis
Technical Analysis
Derivative Market Strategies